Recessions Are on the Margin
November 26, 2010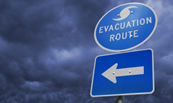 I've got to admit it's getting better
A little better all the time
I have to admit it's getting better
It's getting better since you've been mine
Getting so much better all the time
- John Lennon / Paul McCartney, Sgt. Pepper's Lonely Hearts Club Band
And the data out over the last few weeks tells us it is getting better. Does this take us out of the double-dip woods, even as the Fed is lowering its forecast? And what is a recession? Yes, we all know it's when the economy doesn't grow, but we are in a rather unique economic environment, this time. Maybe things are getting better, but is it enough to get us back on the road to full employment?
Let's start off with what is going right. We had a slate of news over the past few weeks that was good. The ECRI weekly Leading Index, after some ugly downtrends, is showing signs of turning around. We have had small increases each week since October 15, and the annualized growth rate of the index is now only -3.1%, having increased for 12 weeks. Its recent low was in July. Yes, I know that…
To continue reading, subscribe for free.
---
Or login below.