The Economic Blue Screen of Death
October 17, 2008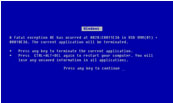 The Psyche of the American Consumer
The Consumer Weakens
The Paradox of Thrift
An Economic Blue Screen Of Death
Those Wild And Crazy Analysts
London, Stockholm, Malta, and Becoming a Grandfather
This week I am in California giving two speeches to the Financial Planning Associations of San Diego and Orange County. This and next week's letters will be the broad outline of the speech. We will look at how the retreat of the American consumer will affect the stock market. Has the recent drop (can we say crash, gentle reader?) in stock market valuations given us an opportunity to find value? We look at some very powerful evidence that suggests that may be so. Then we look at the counter to that view. Are we at the bottom, or is there more pain? And given the current state of affairs, how should we then invest? Where do we put our money to work when the dust settles, as it surely will.
As I noted above, this will be a two-part letter, finishing up next week. It will also print out a lot longer than normal as I have a lot of PowerPoint slides that are really important for you to see. A note to the 25% of my one million-plus readers who are outside the US: I am using illustrations from the US stock market to discuss timing and valuations, but the principles will translate to markets worldwide. In fact, considering that most stock markets worldwide are down even more than the US markets, they may be even more applicable. The time to become bullish on a lot of markets may be closer than we think. Let's jump right in.
The Psyche of the American Consumer
You have to have a bit of humor, and I think this cartoon says a lot.
The psyche of the American consumer has been seared, and perhaps permanently, reminiscent of the manner in which our grandparents who lived during the Great Depression were permanently scarred with the memories of that time. How it works out will be different this time, of course, and we will…
To continue reading, subscribe for free.
---
Or login below.