The World Is Flat
August 5, 2005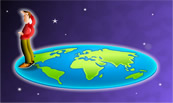 The World Is Flat
How We Got Here
George Gilder and the Silicon Eye
Against the Gods and When Genius Failed
Fooled By Randomness
Home Again, Home Again, Jiggety Jig
I got home late last night from two weeks with the kids in Europe, and jet lag is kicking in. Since I should not be allowed to make any investment observations in this state, I am going to do something for which I constantly get requests and that I have wanted to do for quite some time. This week I give you my list of recommended books along with a little commentary on them, starting with a few new ones. Let's jump right in.
The World Is Flat
My must-read book of the summer may surprise a few of you. Thomas Friedman is a columnist for the New York Times and has annoyed me on more than a few occasions. So it was with some skepticism (based on a recommendation from a friend) that I picked up his latest book, "The World Is Flat." Thomas has given us a very readable, packed-with-insights account of the growth…
To continue reading, subscribe for free.
---
Or login below.