What? Me Worry?
April 20, 2007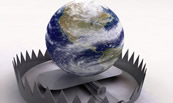 What? Me Worry?
Past Performance Predicts Future Disaster
The Surprise of the Black Swan
The Boomers Break the Deal
La Jolla, Moving, and Graduation
This week I am in La Jolla for my annual Strategic Investment Conference, co-hosted by my partners Altegris Investments. This week's letter is the basis for the speech I will be giving Saturday afternoon on a few of the items in my long-term worry closet.
It will come as no surprise to this audience that there are a few things that worry me. I often write about problems in the markets. Subprime mortgage contagion, earnings shortfalls, a slowdown in consumer spending are all on my worry list.
But I am not just your average amateur worrier. I am a professional worrier. I get paid to worry. For a professional, worrying is an art form. The amateur worrier spends way too much time worrying about events that are likely to happen. A true professional worries about the unlikely events that create the most problems. It is the things we are not worried about which can cause us the most harm.
What? Me Worry?
For instance, I am not worried that the subprime mortgage debacle might cause a recession. I think it will bring us a garden-variety recession. I have lived through five recessions, a few market crashes, and other economic upheavals in my adult life and expect to live through that many more problems in the future. My portfolio and business are built to withstand a recession or two, so I don't…
To continue reading, subscribe for free.
---
Or login below.