Today's OTB features an excerpt from my friend Vitaliy Katsenelson's recently published The Little Book of Sideways Markets. Vitaliy is CIO at Investment Management Associates, a value investment firm in Denver, and he is a prolific and engaging writer (you can find and subscribe to his articles at http://ContrarianEdge.com). I had the pleasure of writing the foreword to Vitaliy's book, and here is a brief excerpt:
"Markets go from long periods of appreciation to long periods of stagnation. These cycles last on average 17 years. If you bought an index in the United States in 1966, it was 1982 before you saw a new high – that was the last secular sideways market in the United States (until the current one). Investing in that market was difficult, to say the least. But buying in the beginning of the next secular bull market in 1982 and holding until 1999 saw an almost 13 times return. Investing was simple, and the rising markets made geniuses out of many investors and investment professionals.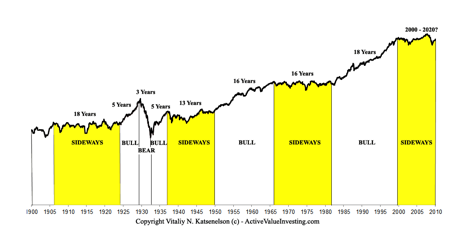 "Since early 2000, markets in much of the developed world have basically been down to flat. Once again, we are in a difficult period. Genius is in short supply.
" 'But why?' I am often asked. Why don't markets just continue to go up, as so many pundits say that "over the long term" they do? I agree that over the very long term markets do go up. And therein is the problem: Most people are not in the market for that long – 40 to 90 years. Maybe it's the human desire to live forever that has many focused on that super-long-term market performance that looks so good.
"In the meantime, we are in a market environment where investors have to be more actively engaged in their investments than before during a bull market when the rising tide lifted all ships. The Little Book of Sideways Markets is a life preserver that will help you navigate these perilous waters. Wear it well and wisely."
In the excerpt that follows, Vitaliy explains the whys and wherefores of bull, bear, and sideways markets.
This week we look over the Pacific pond to China and Japan, in an interview with my friend Vitaliy Katsenelson by David Galland, who is the managing editor of The Casey Report. Vitaliy is the chief investment officer of Investment Management Associates, Inc., and author of Active Value Investing. Profiled in Barron's in September 2009, Vitaliy, who was born in Murmansk, Russia, and moved to the U.S. in 1991, is an adjunct faculty member at the University of Colorado at Denver's Graduate School of Business.
Long time readers know that I just don't get China or Japan. I think both are bubbles, but as Vitaliy notes, many bubbles can outlast the reputations of those predicting their demise. Timing is everything.
For those interested in subscribing to the Casey Report, which focuses on special situations and natural resources, you can get a risk-free trial subscription by going to the following link. (http://www.caseyresearch.com/crpmkt/crpSolo.php?id=175&ppref=JMD175ED1110A) It is one of my favorite reads.
Have a great Thanksgiving week!