America's Creativity Crisis
December 31, 2004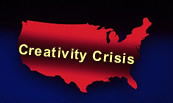 Stupid Government Tricks
America's Creativity Crisis
Talent Flow, International Competition
How You can Directly Help in Sri Lanka
Happy New Year and Many Thanks
We start the year off with a little controversy. This week we take the long view of a problem created by current government policy as a result of the War on Terror that may not show up for 20 years, but if not corrected will have far-reaching consequences for the global balance of power and the US economy.
This week's letter will be a little shorter than usual, for a variety of reasons, not least of which is I am both taking a little time off and also doing a lot of research for next week's 2005 Forecast Issue. At the end of this essay, I also mention a way for you to personally help in getting $5.5 million dollars of medicine to Sri Lanka for $.02 on the dollar, a very good investment, if I do say so.
But before we get into this week's essay, let me note that I have recently finished two pieces for the Accredited Investor E-Letter and have a third in the works. One of my top of the list New Year resolutions is to write more Accredited Investor Letters. The current letters are available through my associates at Altegris Investments. If you are an Accredited Investor (typically net worth of $1,000,000 or more - see my…
To continue reading, subscribe for free.
---
Or login below.