Forecast 2007: The Goldilocks Recession
January 5, 2007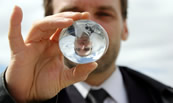 Forecast 2007: The Goldilocks Recession
That Hissing Sound You Hear
The Derivative Sleeper
Problems on the Margins
Will the Stock Market (Finally!) Ready to Correct in 2007?
South Africa, A Moment for Reflection and My Book
How has another year come and gone so quickly? It seems like someone hit the fast forward button. And once again, all too soon, it is time for me to demonstrate my masochistic nature and write a forecast issue. Rather than going into details on every topic, I will try and stick to the big picture and leave the fine points for later letters.
Each year as I do this forecast, I look for a theme. What will be the driving factor which will set the stage for the economy? In 2001 it was the coming recession; in 2002 it was a weak recovery and the beginning of the Muddle Through Economy; in 2003 it was Surprise and Transition. In 2004 it was the Silver Lining Economy; in 2005 it was the See-Saw Economy. Last year it was The Gripping Hand, as Bernanke had the economy in his interest rate gripping hand. Who knew in January 2006 how far he would go? For masochists, you can go the archives at www.2000wave.com and read those forecasts.
This year the theme is The Goldilocks Recession. As outlined in the past few months, I think the US will have a mild recession or slowdown in 2007. That premise leads to a lot of other follow-on forecasts. Why the theme? Remember that after finding things were just right, Goldilocks ended running out of the house when the bears came home. And I think the housing bear will finally come home in 2007.
And as I do each year, we start by reviewing last year's forecast. Prior to last year, I had been on kind of a roll in my forecast issues. Never perfect of course, but all in all I have been lucky. I wrote as a preface last year:
"As I look at the coming year, I think it is likely I will not be as successful in my accuracy. There are a…
To continue reading, subscribe for free.
---
Or login below.