Goldilocks and Just One Bear
August 18, 2006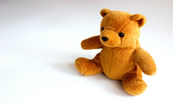 Goldilocks and Just One Bear
Stagflation Light
Bird Flue Conference
New York, Art and Heat
The markets have closed up for five straight days. So much for my concern that either the economy might be slowing down or that if the economy does not slow down inflation will be a problem forcing the Fed to take action later this fall. Clearly, the majority of investors think we are in a Goldilocks scenario. In fact, Ed Yardeni uses that term in an interview with Mark Gongloff at the Wall Street Journal Online . Mark then contrasts my views with Ed's in an excellent piece called "Soft Landing: Many See a Goldilocks Market, While Others See Stagflation Light."
That interview will be the basis for this week's letter, as it serves to contrast the tension between those who see the markets rising to new heights and those like myself who see problems. I am in the smaller group, at least for now.
But first, there is an interesting pattern developing in the markets, called a "W" formation. While I normally do not talk about technical charts and patterns in this letter, I think this bears (pardon the pun) looking at. This is from good friend Bill King in his daily King Report :
"We want to revisit our warning about 'W' patterns, especially when they occur after long, pronounced rallies. The following charts compare the current rally and ensuing 'W' formation with what occurred in 1987. We are NOT suggesting that a 1987-like crash is imminent; but we are warning that 'W' formations can lead to dramatic market reversals.
[Look at the two charts below.]
To continue reading, subscribe for free.
---
Or login below.