Greed by Four Lengths
February 10, 2006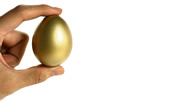 Greed by Four Lengths
Employment Growth Starts to Peak
30 year Treasuries Hit the Yield Curve
This Time Its Different
London and The Millennium Wave
This week we look at an interesting index of greed and fear, look at the yield curve and the new 30 year Treasury bond, the latest unemployment numbers and a lot more. What do they tell us? Is there a theme or at least a rhyme? Or is it all random noise sent by the market gods to lull us back into the mistakes of the past?
The markets are a race between greed and fear. Right now Greed is looking like Seabiscuit beating War Admiral by four lengths at the stretch. (As an aside, you can read the greatest descriptions of that race - and one of the truly great sports columns of all time - by the incomparable Grantland Rice at http://www.secondrunning.com/seabiscuit_war%20admiral.htm. That man could stir the soul with his words, and this was Rice at his best.)
Good friend James Montier over at Dresdner Kleinwort Wasserstein in London has been tracking his own measure of fear and greed for the last few years. It is a fairly simple measurement but it does show some very interesting patterns. He admittedly has not looked at the index for awhile (it is rather like watching paint dry on a week to week basis), so he dusted off his old data files and updated his index. What a difference a year makes. The index has only reached this level of greed in September of 1987 and May of 1996.
Greed by Four Lengths
What does it measure? Risk appetite. "It is really a measure of relative risk adjusted momentum between global equities and bonds. When the risk adjusted performance of equities is high relative to the risk adjusted performance of bonds, then investors start to forget about the concept of risk altogether; they become totally focused on return. Irrational exuberance reigns (shown as a reading of above 1 in the chart…
To continue reading, subscribe for free.
---
Or login below.