Lies and Other Statistics
May 2, 2008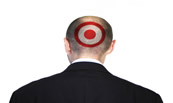 Lies, Damn Lies, and Statistics
Who Is Inflating the Numbers?
Honey, I Blew up the Employment Numbers
A Black Swan in Food
Housing Numbers Are Better Than I Wrote
South Africa, Canada, and La Jolla
"There are three kinds of lies: lies, damn lies, and statistics." -- commonly attributed to Benjamin Disraeli
If we are to believe the government statistics, the GDP of the US grew by 0.6% in the first quarter of this year. And unemployment actually fell. And there were only 20,000 job losses. This week we do a quick review of why the statistics can be so misleading. We also look at why I was wrong about the housing number last week, and I highlight what could be a very serious Black Swan lurking in the agricultural bushes. It should make for an interesting letter. It's hard to know where to begin, there are just so many tempting targets; so let's take the statistical aberrations in the order they came out this week.
Who Is Inflating the Numbers?
In my January 2007 annual forecast, I said that we would see a recession or a serious slowdown by the end of 2007 and that it would be mild as these things go, triggered by a bursting of the housing bubble and a slowdown in consumer spending. During the summer and specifically in October I wrote that we were facing a Slow Motion Recession -- that the recovery process would…
To continue reading, subscribe for free.
---
Or login below.