Richard Russell's Wisdom
April 14, 2006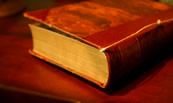 Rich Man, Poor Man
The Power of Compounding
Rule 2: Don't Lose Money
Memphis, Montreal, Orlando, Las Vegas, New York, La Jolla
It is Good Friday, and I am going to take the writing day off. Next week we will delve further into the rich mines we began to explore last week on complexity theory and fingers of instability. But I am going to give you something better than my poor missives. Today we look at the chapter by Richard Russell from my book Just One Thing . To find out more about the book, you can click on the book cover nearby or go to www.amazon.com/justonething.
What can one say about my friend Richard Russell without using a lot of superlatives? Richard has been writing and publishing the Dow Theory Letters since 1958, and never has he missed an issue! It is the longest newsletter service continuously published by one person in the investment business. Richard is now 80 years old, and writes an extremely popular daily e-letter, full of commentary on the markets and whatever interests him that day. He gets up at 3 am or so and starts his daily (massive) reading and finishes the letter just after the markets close. He is my business hero.
He was the first writer to recommend gold stocks in 1960. He called the top of the 1949-66 bull market, and called the bottom of the bear market in 1974 almost to the day, predicting a new bull market. (Think how tough it was to call for a bull market in late 1974, when things looked really miserable!) He was a bombardier in WWII, lived through the Depression, wars, and bull and bear markets. I would say that Russell is one of those true innate market geniuses that have simply forgotten more than most of us will ever know, except I am not certain he has forgotten anything. His daily letter is loaded with references and wisdom from the past and gives us a guide to the future. (You can learn more - and subscribe! - at www.dowtheoryletters.com.)
When I asked Richard to contribute an article, I wanted his wisdom more than his actual market theory, and that is what he has given us. You (and your kids!) should read this again and again! Richard lives in La Jolla with his wife Faye.
Rich Man, Poor Man
By Richard Russell
Making money entails a lot more than predicting which way the stock or bond markets are…
To continue reading, subscribe for free.
---
Or login below.