The Answer We Don't Want to Know
February 11, 2012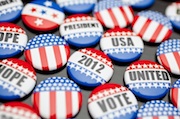 2012 will be the 11th time in my short life that I will be able to participate in the choosing of a president of the United States. While it may just be me, it seems like each and every election is cast as the most important election of our time and a defining moment for the American Experiment. The future of the Republic was being weighed in the balance, and only the proper outcome (which would of course be the election of the candidate you supported) would assure its survival. This week we will continue our meditations on the economic choices that confront the world, this time focusing on the US.
We will start with a thought experiment, in which I invite you to think about alternate histories. Just how important are presidents (or leaders in general) to the success or failure of the economy? And then how critical is the coming election this fall? We will assault a few of our most cherished beliefs, both from the left and from the right. If I do not offend you in the first few pages, I invite you to keep reading; I will get to you somewhere.
(Warning: I risk upsetting more people than usual, as this letter is centered on the politics of economics. I will do my dead level best to be even-handed, but there is just no pleasing everyone. So better to write what I think and at least have one person happy. Which is pretty much what I do every week, anyway.)
As I continuously argue, the most important issue facing the US is dealing with its deficit, just as that is the defining issue in much of Europe and will soon be in Japan. The longer we put off the decision, the more difficult the task and the more serious the economic impact. Without action, Italy all too soon becomes another Greece, but with real impact. They realize that and are making the efforts. But would it not have been easier for Italy with about 40% less debt-to-GDP? Perhaps not politically, at that time when they should have been working on it, but in hindsight I bet the politicians now wish they had done more. It seems we accept change only in the face of necessity and see the necessity only in a time of crisis (as one Italian more or less put it, long ago).
So we discuss politics, because the looming debt crisis (and its solution) is at its very core a political creation and must have a political solution. And once the bond market decides to provide its own solution by demanding much higher interest rates, it is too late. That's game over, and a prolonged recession if not a depression will ensue.
But before we go any farther, and quickly, if you are an accredited investor (or professional investment advisor or broker) in the US, let me invite you to a live discussion/webinar with myself and Tony Fenner-Letto of Winton Capital Management this next Tuesday, February 14, 2012 at 10:00 a.m. Pacific / 1:00 p.m. Eastern. This presentation will be hosted by my partners at Altegris Investments. Winton Capital Management is the largest and arguably the best-known managed futures firm on the planet. We will discuss their strategy for dealing with today's market environment. I will also share my current thoughts on the global economy and its outlook. Hopefully we can talk about something besides Greece (are you tired of Greece yet?).
You can get an invitation to the webinar by calling your Altegris representative at 800-828-5225. If you have not yet opened a relationship with them, I will have them call you if you register at The Mauldin Circle. A replay will be available to registrants unable to attend. I apologize for limiting this discussion to accredited investors, but we must follow the rules and regulations. I am working on doing a webinar in the near future that will not be restricted. Stay tuned. (In this regard I am president and a registered representative of Millennium Wave Securities, LLC, member FINRA.)
One further note. At the end of the letter, I will give you information and a link to be able to register for my Strategic Investment Conference, May 2-4. I expect it will sell out, as always, so I would suggest making your reservation promptly.
Now, we start today's letter in South Africa, as I wonder which continent I will finish it on. In order to be able to hit the send button while on layover in London, we'd better jump in.
I have long maintained that presidents take too much credit for good economic times and get altogether too much blame for bad ones. That is not to suggest that they can't make a difference by promoting certain policies over others. Clearly they can. But I think we might find, if we think about what might have been if the "other guy" had been elected, that outcomes would…
To continue reading, subscribe for free.
---
Or login below.