The Black Swan
September 14, 2007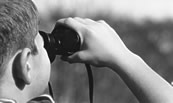 The Black Swan
Mediocristan versus Extremistan
When "Because" Isn't Enough
Gliding Into Disorder
"A similar effect is taking place in economic life. I spoke about globalization in Chapter 3; it is here, but it is not all for the good: it creates interlocking fragility, while reducing volatility and giving the appearance of stability. In other words it creates devastating Black Swans. We have never lived before under the threat of a global collapse. Financial institutions have been merging into a smaller number of very large banks. Almost all banks are now interrelated. So the financial ecology is swelling into gigantic, incestuous, bureaucratic banks (often Gaussianized [bell curve] in their risk measurement)-when one falls, they all fall.
The increased concentration among banks seems to have the effect of making financial crisis less likely, but when they happen they are more global in scale and hit us very hard. We have moved from a diversified ecology of small banks, with varied lending policies, to a more homogeneous framework of firms that all resemble one another. True, we now have fewer failures, but when they occur...I shiver at the thought. I rephrase here: we will have fewer but more severe crises. The rarer the event, the less we know about its odds. It means that we know less and less about the possibility of a crisis." (Nicholas Nassim Taleb, The Black Swan, p. 225, probably and presciently written last year.)
How predictable was the current turmoil in the market one year ago? Six months ago? On one level, it was not all that hard to see that that there were going to be problems in the subprime mortgage market, especially in the BBB tranches (or portions) of Mortgage Backed Securities which were rolled up together into Collateralized Debt Obligations and given AAA ratings. Saying that there would be massive losses distributed throughout thousands of institutional portfolios was almost a given. I was not the only one writing about the problems that awaited us.
But it is one thing to predict a problem, and quite another thing to understand its full implications in the market. This week we talk about how these events in general come about and end up speculating how we get back to "normal" market conditions. Plus I look at the probability of the Fed cutting rates and speculate that they will eventually lower them much more than we now think.
The Black…
To continue reading, subscribe for free.
---
Or login below.