The Sacrifice Ratio
January 13, 2006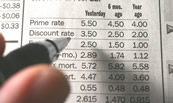 The Bernanke Era
The Sacrifice Ratio
How Important is Housing to the Economy?
On the Contrary: Why It Pays To Be Different
Toronto, Miami and New York
This week we will look at a few very interesting items that did not make it into last week's forecast, as that letter was already overly long. Bernanke's arrival, the importance of the housing market to the economy, the length of the recent rally and a note from good friend James Montier on why it both pays, and is painful, to be a contrarian. I include a quick note to some of my fellow brokers at the end of the letter along with a few places to visit on the web for fun. I think we will find a few tidbits to enlighten us.
But first, I must issue a correction and an apology to Elaine Garzarelli. Business Week showed her as the most bullish of forecasters, predicting the Dow to go to 14,000. In an attempt at humor, I asked her what she was smoking? She wrote me a very polite note, saying that she does not normally forecast the Dow and the Nasdaq. "Based on the S&P 500 forecast my staff took the percentage change forecast for the S&P and applied it to the Dow for the Business Week article. I was in Europe." And she noted in a hand-written comment, "I unfortunately do not smoke or drink."
Elaine's work forecasts EPS of 84.40 and their estimate of a fair value of 18.8 for the P/E ratio, based on the equations of how bond yields, productivity, inflation rates, growth deficits, and a host of factors all influence investor willingness to buy at such a P/E ratio. She has not always been bullish, as in 1999 when she thought the market was 46% overvalued. I hope she is right about this year. Bull…
To continue reading, subscribe for free.
---
Or login below.