Those Magic Unemployment Numbers
March 5, 2004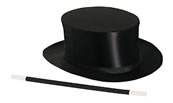 The Bureau of Labor Statistical Magic
The Structure of Unemployment
Capitalists of the World, Unite
Bull's Eye Investing, Kansas and Sir Walter
That loud boom you heard Friday morning coming from the futures pits was the job report imploding the dollar and sending interest rates tumbling. The consensus estimate was for 125,000 new jobs and it came in at a meager 21,000. Most economists think that we need 150,000 new jobs created per month to actually gain ground with population growth.
This signals the potential for a weaker economy in the future, thus interest rates drop. A weaker economy also hurts the dollar, and thus the market reaction. Perversely, the stock market seemed to think lower rates are good for stocks in the future, so the broad market ended up sideways, except sadly for Martha Stewart Omnimedia.
We are going to follow up last week's thoughts on trade with a look at employment and the lack of job growth. These are two of the three critical issues the country will deal with in the coming election cycle, with Iraq and the War on Terror being the third. We are going to look at three different research reports and then see if we can draw some conclusions, as well as look at…
To continue reading, subscribe for free.
---
Or login below.