What If the Fed Has It All Wrong?
September 24, 2012
As long-time readers know, I get a large volume of research sent my way. I can't get to all of it every week, but I really do try. And today's Outside the Box, from a new (to me) source, hooked me from the first few paragraphs.
Correlation is not causation, as we all know. That brings us to the Fed, where many market observers are seeing causation when there might be other reasons for stock market movements. What if the victory lap Bernanke has taken due to stock market results is perhaps a little too early or out of place entirely? And what might that potentially say about future market performance and correlations?
Denis Ouellet wrote today's Outside the Box and graciously gave me permission to use it. I asked him a little about who he is. Turns out he lives in Montreal (but winters in Florida), is almost 60, and has retired after nearly 35 years in the investment business as an analyst and head of research for a brokerage company, an equity manager for various investment organizations (pension, mutual, and hedge funds], head of global equity investments at a major pension fund, and chairman of the equity investment committee of a major pension and mutual fund investment organization. Like me, he travels around the world and has lots of kids (just 5 in his case). His blog is New$ to Use.
I leave on Wednesday for Atlanta and will eventually end up in New York on Sunday to start a 36-hour marathon of meetings and interviews, plus a speech or two. On Tuesday morning I am with Tom Keene on Bloomberg at 7-7:30 AM.
Your always paying attention to earnings analyst,
John Mauldin, Editor
Outside the Box
subscribers@mauldineconomics.com
Get John Mauldin's Over My Shoulder
"Must See" Research Directly from John Mauldin to You
Be the best-informed person in the room with your very own risk-free trial of Over My Shoulder. Join John Mauldin's private readers' circle, today.
---
What If the Fed Has It All Wrong?
This is the 4th major intervention from the Fed since 2009, each one apparently inflating asset prices without having a definitive impact on the economy other than, most importantly, preventing a lethal debt-deflation spiral.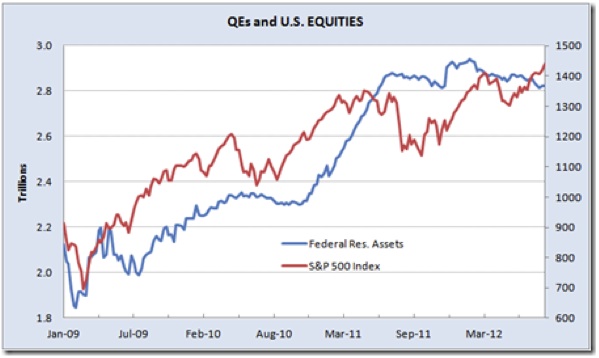 The chart above is used extensively to illustrate the close relationship between QEs and equity prices. Hence investors' Pavlovian reaction to last week's FOMC…
To continue reading, subscribe for free.
---
Or login below.