China: One Coin, Two Faces
January 21, 2005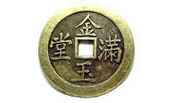 When Will China be Larger Than the US?
250,000 Engineers a Year and Counting
The Greatest Migration in History
A Few Thoughts on Chinese Banks
It's a Long, Long Way to Chongqing
A Few Final Thoughts on China
A New China ETF
La Jolla, Pride and Great Wines
This week we begin what will be a series of occasional letters on China. The topic, like the country, is so vast that it cannot be adequately dealt with in one short letter. Today, we will take a long range view into the future, looking at how China will develop vis-a-vis the developed world.
There is a mountain of material on China, as I can personally attest to, having gone through hundreds of pages of reports, essays, and data in the past few weeks. Much of the writing falls into two camps, it is like they are holding the same coin but only looking at one of the two sides. The first camp sees China as an emerging empire which will eclipse Europe and the US in a few decades, offering a rival military power to balance a uni-polar world. They will stop purchasing US debt, precipitating a major decline in the US and force us into a long and permanent recession. After reading some of the extremes of this group, I feel like buying a shovel and digging a hole so we can just go ahead and bury ourselves.
And then there are the Chinese skeptics. Yes, they admit, China is a good story today, but when the inevitable crisis comes along China will not be able to maintain its stability. China is dependent upon massive amounts of foreign investment, which will at some point dry up. Its recent boom is construction related, and that cannot continue. It has huge pollution problems; a top down administrative economy which almost never works, and is…
To continue reading, subscribe for free.
---
Or login below.