Hoping It's Different This Time
November 18, 2005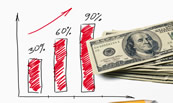 Maybe It's Different This Time
Earnings Rollercoaster, History As A Guide
Conclusion - Flat and Choppy
Evidence for Investor Overreaction
How Secular Cycles Actually Work
London, Thanksgiving and Yeast rolls
What type of returns can we expect from the stock market? Do I think we are still in a secular bear market, even as the market tries to make new highs? What causes long term market cycles? Is there a psychological component to them? (Answer: yes.) And can we make any predictions about the future of the stock market? All this and more in this week's letter.
Last week we started a series on the debate between GaveKal and Bill Bonner on whether "It's different this time," centering on whether trade deficits matter. I said I was going to address this topic for the next few weeks. However, that was before major jet lag and time crunches caught up with me in London. If I wrote anything too detailed, I might have to disavow it on Monday. So, we will take up the debate next week, hopefully with a fresher and rested mind.
But in the spirit of that theme, my good friend Ed Easterling of Crestmont Research sent me the following essay on why earnings are likely to disappoint in the coming years. It brought to mind a study that I spoke about to the Value Investing Congress in New York City last Wednesday, which came from my book, Bull's Eye Investing. After Ed's piece, I am going to adapt that part of the book to…
To continue reading, subscribe for free.
---
Or login below.