Horse Racing and the CIA
October 1, 2004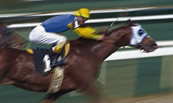 Your Pre-Game (Investment) Routine
Your Most Embarrassing Investment Moment
Do You Really Need More Information?
Horse Racing and the CIA
Birthdays, Houston and Other Distractions
This week we explore in depth an essay on how we think from that bastion of investment analysis, the US Central Intelligence Agency. We look at the rookie mistakes made even by pros. I describe one of my own more embarrassing rookie moments and how it highlights an investment principle that the best performing professionals always keep in mind. I finish with a note on what you can give me (and your friends) for my birthday. It should make for a lively letter.
One of the things I try to get my kids to notice is how professional athletes all have a routine when they perform. Watch a golf pro or a baseball player. Before they get ready to hit, they have a routine, which is always the same. They have narrowed their thoughts down to a few simple steps.
Your Pre-Game (Investment) Routine
What happens to a golfer if he is thinking about his next meeting when he is in the middle of his backswing? It's hard enough to hit that small ball straight when you are totally focused. Getting distracted when a 98 mile per hour baseball is coming at you won't help your batting average. Thinking about something stressful when you need to be focused is a prescription for…
To continue reading, subscribe for free.
---
Or login below.