My Personal Portfolio
December 22, 2006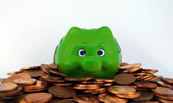 My Personal Portfolio
The Lights of Myanmar
Who's Afraid of a Bull Market?
California, South Africa, and a Vacation
It is Christmas, and I frankly don't feel like writing a letter about why there will be a slowdown in 2007, or that the stock markets should see a retreat. This is the season for feeling good. And looking at the forecasts of the vast majority of my fellow prognosticators, some of them are feeling very good indeed. So, no bearish thoughts this weekend.
We will depart instead from the recent litany of problems I have written about and look for something new. I get several letters every week from readers asking how I feel about missing the recent bull market, sitting on the sidelines in cash. Except that I am not in cash. Others ask about where I am actually invested. I have never written about my personal portfolio; but this week I discuss my investments in general, review their performance, and offer a few thoughts on investing and creating wealth. But first...
The Lights of Myanmar
For the last three years, I have asked readers to help Knightsbridge International fund a project to bring solar power to various medical clinics with no electricity in the villages of the Karen tribe of Myanmar. This is a group of people forgotten by the world, who are persecuted in large part because of their religious beliefs (they are Christian, for those who want to know).
…
To continue reading, subscribe for free.
---
Or login below.