Party Like It's 1999
December 15, 2006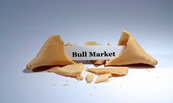 Let's Party Like It's 1999
On Balance?
Retail Sales Conundrum
Forget Goldilocks, Think Dreamgirls
The Billion Dollar Cowboy
The stock market liked both the retail sales and the inflation numbers that were released over the last two days, with the Dow posting successive all-time highs. This week we look behind the headlines and a little deeper into those numbers to see if there is some justification for the exuberance, as well as offer some thoughts on valuation and the recent meeting of the Fed. And I know it will shock you that once again there is a change in the way the government collects its data. It should make for an interesting letter, so let's jump in.
It is getting lonelier to be in the bearish camp. I noted this morning on CNBC that Mark Haines introduced good friend David Kotok of Cumberland Advisors as a former perma-bear. Last summer, David invited me to his rather famous Shadow Fed fishing weekend in Maine, where economists, as well as money managers, some press, and the occasional official figures get together to fish, eat, drink, and talk economics. A very eclectic group by any standard. I took my 12-year-old son Trey and we had a blast. In fact, I was instructed by Trey as we left to be nice to David so we could get invited again.
One of the rituals is that one evening everyone sits around and predicts where various markets and rates will be the next summer, and modest sums are wagered in pools and side bets. Kotok at the time was thinking the Fed would raise rates after a pause. It will come as no surprise that I was one of the more bearish attendees. My thinking then, as now, was that by the middle of next…
To continue reading, subscribe for free.
---
Or login below.