The Birth/Death Ratio
July 13, 2007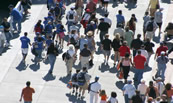 The Birth/Death Ratio
Retail Sales Up? Let's Hear it for Inflation!
King Dollar and the Guillotine
Asking the Chinese to Buy Our Mortgages?
A Half a Trillion and Counting
Albacore, Maine, Denmark and Europe
Is the economy slowing down or is it getting ready to go on a new tear? Judging by the run-up in the Dow, the answer is a major turnaround for the economy in the last half of the year, from the close-to-recession numbers of the first quarter. So, what has happened to my forecast of a slowdown or minor recession? This week we look at some hidden problems in the employment data, analyze retail sales and consumer spending, and speculate about the last half of the year. And we also look at how the dollar is doing, inflation, foreign reserves, and more. And you have got to hear the story about a US government official going to Beijing asking them to buy US mortgages. Seriously. You can't make this stuff up. There is a lot of interesting ground to cover, so let's jump in
First, let's look at the good news. Given the increase in inventories, the rise of all the manufacturing surveys, and a smaller trade deficit, most economists think that GDP for this second quarter will be in the 3% range. Given that first-quarter growth was an anemic 0.6%, this will give us an average for the first half of less than 2%, which is more or less the return of Muddle Through I predicted at the beginning of the year. Most of the growth was technical in nature, coming from a drop in the trade deficit and a significant rise in inventories. As we will note below, retail sales are not all that strong, which may help partially explain the rise in inventories.
The average Blue Chip economist is pegging the US economy to grow in a very robust 3% range for the last half of the year. Manufacturing surveys suggest that the economy is quite strong and are in the territory normally associated with 3% growth. Employment numbers came in surprisingly robust this week, and Wal-Mart had better sales than expected, even if they were weak. So, the market decided to party like its 1999.
So, what's not to like? When you look through to the underlying data, I think it suggest the economy will be much slower than 3% in the last half of the year.
The Birth/Death Ratio
To start with, let's dissect the employment numbers. The official headline number for June was 132,000 new jobs. Since we need about 150,000 new jobs just to stay even with population growth, that is hardly…
To continue reading, subscribe for free.
---
Or login below.