The Recession of 2007
December 1, 2006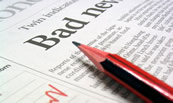 Housing: The Roof Leak Gets Worse
Manufacturing: The Gears Get Jammed
Retail: It's All On Sale
The Inverted Yield Curve Gets Steeper
The Recession of 2007
Switzerland, Dubai, Denmark, and Chile
One of my favorite cartoons of all time is that of a very scrawny mouse caught out in an open field with a rather large hawk swooping down on it. There is no place to run, no place to hide. All the mouse can do is face the hawk and give him the bird, so to speak. The caption runs something like, "In the face of total disaster the only appropriate response is utter defiance."
And while the economic data is not a total disaster, it has not been good this week. Yet the response of investors everywhere is defiance, or at the very least serious nonchalance.
Recession possibilities? "What recession? I spit on your talk of recession." They continue to assume that things will turn out much better than merely OK. All manner of investments are priced for perfection, perfection being defined as growth slowing enough to take out inflation risk yet not enough to hurt the ever upward rise of corporate profits. Goldilocks is the name of the game.
The stock market did close down somewhat today, yet as trading came to the end of the session, it rose over 100 points from its low of the previous few hours. All you can do is just marvel at the amazing capacity of investors to embrace risk in the face of this week's economic data, which we will look at in some detail today.
And after we dissect the parade of bad…
To continue reading, subscribe for free.
---
Or login below.