Things That Go Bump in My Worry Closet
November 19, 2004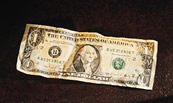 The Things That Go Bump in My Worry Closet
If a Trend Cannot Continue, Then it Won't
Iwata-san Speaks, the Yen Trembles
The Chinese Currency Conundrum
Who Really Controls the Dollar?
Why the Dollar May Rise
Canada and Home Again, Home Again
From ghoulies and ghosties
And long-leggedy beasties
And things that go bump in the night,
Good Lord, deliver us!
--Old Scottish Prayer
Coming back from Canada this morning, where the Canadian dollar is on a breath-taking rise, and reading several lengthy (and very conflicting) reports on the international currency situation, I feel compelled to weigh in with a few observations. Basically, the numbers of things that are out of balance in the world are increasing. How long can the current status quo maintain itself? This week, we visit my worry closet. Now, there are numerous writers who would tell me not to worry. Isn't the market going up?
I am perfectly willing to be led into greener pastures. The employment numbers a few weeks ago were quite good. Retail sales seem to be coming along, thank you very much. But I hear things bumping in my closet. Maybe they are simply the ephemeral ghosts of bear markets and systemic shocks past, not yet willing to leave this world. As I tell my children, ghosts can't hurt you. However, the bumping is rather…
To continue reading, subscribe for free.
---
Or login below.