Flawed Assumptions and Grand Experiments
April 20, 2016
Over the last few years, I have from time to time had the real pleasure of being in the presence of Lakshman Achuthan, Chief Operations Officer for the Economic Cycle Research Institute, a rather serious team of economists who spend their time researching economic cycles, especially those around recessions. They are known for having forward-looking models rather than always looking in the rearview mirror.
Every time I get around Lakshman I walk away impressed. And I always make a mental note to myself that I need to invite him to speak at my conference – but then manage to file that note somewhere where it doesn't come up when I'm putting the speakers together. If I post this note in front of 1 million of my closest friends, maybe I'll remember it for 2017.
Lakshman sent me the speech he presented at the 25th Annual Hyman Minsky Conference, and he has graciously allowed me to share it with you as this week's Outside the Box.
One point he makes strongly in the initial part of his presentation is the readily observable fact that each recovery since World War II has been a little bit weaker. And that gives me pause, because that means that after the next recession the recovery will be even more anemic than the current one has been. Thus, absent any significant policy change – and by that I most definitely do not mean the Fed's giving us more of the same; I mean a clear-cut change in the philosophical drivers of the policy – the US economy is going to look more and more like the Japanese economy.
Not that Japan is a bad place to live. Most Japanese have a relatively high standard of living, and life goes on – there's just not a great deal of growth and all the wonderful things that happen along with that growth. So instead of actually growing its economy, Japan has piled up a huge mountain of debt, prone to unpredictable "landslides."
I have been saying for years that the Federal Reserve is using the US economy as a big test lab for their monetary theories. This is unlike going to the doctor, where there is generally a prescribed treatment for the problem you have. The Fed is experimenting without understanding the full consequences, let alone the unintended consequences, of their policies. In the piece that follows, Lakshman very effectively criticizes not only the Fed but central banks in general for their false assumptions and grand experiments. This is a growing theme. Even Nobel laureate Joseph Stiglitz, with whose policy recommendations I frequently disagree, jumped on the bandwagon this week at Project Syndicate with a serious smackdown of the Fed, suggesting they have no idea how to create a model for the economy, and that to pretend they can create one and then prescribe policies based on it is folly.
I feel like I'm being mentally and psychologically whipsawed as I swing back and forth from looking at today's economy to working on a book about what the world will look like in 20 years. There are many aspects of our lives that will get so much brighter – well, except for the economic part. But I think we'll manage to work through the worst of the crisis in the middle of the next decade and can then get back to the serious business of growing our economy in a more or less normal fashion – in a world that will be anything but.
I went to the eye doctor yesterday, simply wanting to a new prescription for my reading glasses. I hadn't been in, oh, maybe a decade. They did the usual full range of tests on me; and then when the doctor finally walked in and found that I just needed glasses and was thinking about having another round of Lasik surgery, he stopped me. "You don't want just reading glasses," he pronounced. "The prescription I've given you can be used just for reading glasses, but you probably want to get a pair of glasses you can wear all the time. And I don't think you should get LASIK today, because your eyes are still pretty much within range; and in five years we'll have a new technique that's been developed in Europe that will allow us to put a lens in your eyes and then do the LASIK directly on the [I assume plastic] lens; and then if you ever need to have further work done, you can come in and we can work on that lens again."
Wow, I just have to wait for the FDA to get around to approving something that is already available in Europe, and then I can have 20/20 vision for the rest of my life! Sounds like a major improvement to me. And there are literally hundreds of similar things in the works that will arrive in just the next 5 to 10 years. When you go out past 10 or 15 years, it truly gets amazing.
All that being said, I wonder what a slow-growth world, with the continuing technological overtake of many jobs that can be automated, will mean to the younger generation. And then I read this week about the disparity between the lifespans of the rich and poor, with the oddity thrown in that the poor in inner cities like Los Angeles live almost as long as the rich in those cities, which tells me that longevity is about more than just access to healthcare. The researchers are just scratching their heads; they can't figure it out either. Life is just one puzzle after another. You have a great week.
Your trying to solve a 10,000-piece puzzle analyst,
John Mauldin, Editor
Outside the Box
subscribers@mauldineconomics.com
Get John Mauldin's Over My Shoulder
"Must See" Research Directly from John Mauldin to You
Be the best-informed person in the room with your very own risk-free trial of Over My Shoulder. Join John Mauldin's private readers' circle, today.
---
Flawed Assumptions and Grand Experiments
By Lakshman Achuthan
Presented to the 25th Annual Hyman P. Minsky Conference, April 2016
This year began with recession fears throwing a spotlight on the elephant in the room. As the cover of The Economist put it a few weeks back – central banks may be out of ammo to fight recession.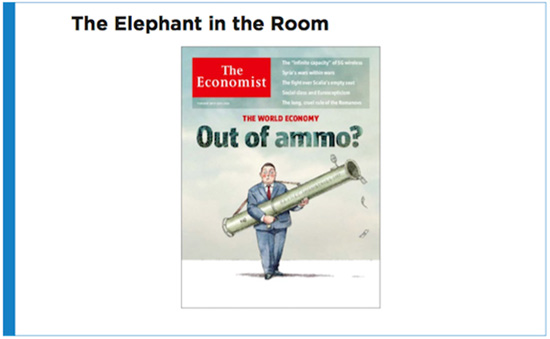 How and why did we get…
To continue reading, subscribe for free.
---
Or login below.