I Meant to Do That
December 19, 2008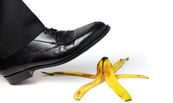 I Meant to Do That
The Lights of Myanmar
Some Good News for Borrowers
Madoff May Give Us a Sell-Off
Conversations with John Mauldin
New Orleans, La Jolla, and Merry Christmas
The Fed has taken interest rates to zero. They have clearly started a program of quantitative easing. What exactly does that mean? Are we all now Japanese? Is the Fed pushing on a string, as Japan has done for almost two decades? The quick answer is no, but the quick answer doesn't tell us much. We may not be in for a two-decades-long Japanese malaise, but we will experience a whole new set of circumstances. In what will hopefully be a shorter holiday version of the e-letter, I will tackle these questions and more.
Most of us are familiar with the devastating hurricane that hit Myanmar (Burma) this last year, and the difficulty in getting aid to those who were suffering. My friends and colleagues at Knightsbridge were able to get in and help where others couldn't.
Knightsbridge International is a small group of volunteers who go to places that are definitely not safe but where the need for help is critical. Like the knights of old, who ran hospitals and relief efforts, these modern-day knights go to where the need is greatest. They took food and medicine to northern Afghanistan before the troops went in (very dangerous!). They went to rebel-held territory in Sri Lanka after the tsunami, when no one else could get medicine and other aid in. Whether it's driving in to rescue nuns in Rwanda (fascinating story!) or taking solar power to clinics in Myanmar, or water purification units and medicine to Darfur, they go where other groups fear to tread. They have no political or religious agendas, just the drive to get aid to where it can do the most good.
The Lights of Myanmar
Last year an award-wining documentary was made about three of the Knightsbridge men, Ed Artis, Dr. Jim Laws, and Walt Ratterman. It was shown on PBS and viewed all over the world. These men are the real deal, heroes who like to do good deeds but get an adrenaline rush at the same time. Some of the things they do I cannot write about, as it would put them and others…
To continue reading, subscribe for free.
---
Or login below.