The More Things Change
April 22, 2005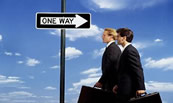 This is the text of a speech given at the Accelerating Change 2004 conference at Stanford University. The conference organizers asked me to look out over the next 3-4 decades and offer my thoughts as to what the future may look like. A somewhat daunting task, and one guaranteed to failure, as the future always seems to surprise, I nevertheless tried to peer into that dark glass.
La plus ca change, la plus c'est la meme choses.
The more things change, the more things stay the same.
What of the future? Can we really stand here in 2004 and have some idea of what will transpire in the next 2-3 decades? Looking at which things will not change will give us some clues as to what will change, and some ideas as to the future in which most of us will assuredly live.
There are three things that over the next 40 years are not going to change.
The innovation cycle is not going to change - it will be with us as it is simply part of our human progression, although it is going to increase in intensity and frequency. The Business Cycle and its cousins, Secular Bull and Bear markets, will not change. As long as the business cycle remains in place,…
To continue reading, subscribe for free.
---
Or login below.