What Would Warren Do?
February 15, 2008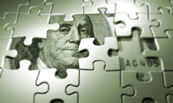 Warren Buffet to the Rescue?
How to Earn 20% in Tax-Free Income
What Would Warren Do?
A Crisis Creates an Opportunity
It's All About Valuations
There Are Times to Be Grateful
It was only a few years ago that I use to sit down at this computer on Friday and wonder what I would write about. In today's environment, there is enough to write three e-letters and still leave interesting copy on the editing floor. Today we look at the rather disturbing developments in the municipal bond market, Warren Buffett's offer to "rescue" the tax-exempt insurers, and ponder what the resolution will be. We also look at corporate earnings, and note how they have been downgraded significantly over the last year. There is (or will be) a connection between stock market prices, valuation, the current credit crisis, and the economy. There is a lot of ground to cover.
But first a quick note about my 5th annual Strategic Investment Conference, to be held in La Jolla April 10-12 (co-hosted by my partners at Altegris Investments). Paul McCulley of Pimco, Don Coxe of BMO (two of my favorite economists anywhere, and simply brilliant speakers), Rob Arnott, George Friedman of Stratfor, as well as your humble analyst and a dozen hedge fund managers who will show you how they navigate in these troubled waters. By the way, George's new book should be at the conference ahead of the bookstores. He has been writing on how the geopolitical world will change over the coming century. I have read a rough copy, and it is fascinating.
Attendees at previous conferences generally rate them as the best conference they attend in any given year, and often the best conference they have ever been to. We do try to do it right. The conference is limited to those with a net worth of over $2,000,000, due to regulatory requirements. I simply hate to put limits like that, but rules are rules. You can register and learn more by clicking on the following link.…
To continue reading, subscribe for free.
---
Or login below.