More BLS BS
January 18, 2008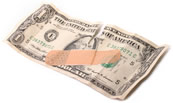 Democrats Ready to Politicize the Fed
More BLS BS
Credit Default Swaps: The Continuing Crisis
A Stimulating Political Package
The Economy Continues to Weaken
Europe, Phoenix, and My New Chair
After a wild week in the markets, there is so much to write about, it is hard to know where to start. The headline number says jobless claims fell 20,000. That would be good news, if it were true. Sometimes you need to look behind the curtain to see how these statistics are made. As we will see, claims were actually up by 26,000. I wrote in my annual 2008 predictions that the big story of the year would turn out to be credit default swaps and counter-party risk. I will admit to thinking it would take more than a few weeks for that to happen. And the Senate is hampering the ability of the Fed to work, and doing so for blatant political purposes, in an effort to reduce the independence of the Fed. There is that and a lot more to cover in what should be an interesting letter.
But first, let me briefly mention my upcoming 5th annual Strategic Investing Conference (co-hosted with my US partners Altegris Investments). It will be April 10-12 in La Jolla, and is shaping up to be the best conference we have ever done. Paul McCulley, Louis Gave, Rob Arnott, George Friedman of Stratfor, and several more well-known names who I expect will commit this next week are on tap, as well as some of the smartest hedge fund managers I know. Find out how these guys are taking advantage of the volatility in what is clearly becoming a bear market, and what you can do to join them.
Although it frustrates me, we have to limit attendance to investors with a net worth of more than $2,000,000, for regulatory reasons. Invitations will be sent out soon. If you would like to go and have not signed up for my free accredited investor letter, you can go to www.accreditedinvestor.ws and sign up. One of my partners from around the world will contact you. (Again, for regulatory reasons we have to talk with every individual who plans to attend, as private offerings and hedge funds will be presented, and we have to make sure that the legal requirements for such presentations are met.)
I should note that conference attendees resoundingly tell me this is the best conference they attend. Space is limited and will fill up, so save the dates.
Democrats Ready to Politicize the Fed
Good friend and fishing buddy David Kotok recently brought a very disturbing item to my attention, and feel I need to pass it on. Senator Chris Dodd, Democrat from Connecticut, he who aspires to be president, is seriously hampering the ability of…
To continue reading, subscribe for free.
---
Or login below.