The Great Liberator
June 11, 2004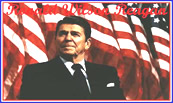 The Great Liberator
The Iron Lady Still Has Her Magic
This Mortal Coil and the Nature of Funerals
As have many of my countrymen, I have been moved today by the funeral ceremonies of President Ronald Reagan. In what may be the most moving eulogy of my lifetime, Margaret Thatcher summed up a life and a time that so changed the world. At the end of this brief essay, I give you the full text of her affecting tribute.
We will return to our usual beat of finance next week, but this week I offer a few personal thoughts on the passing of "The Gipper."
Much of this week has been a warm and deserved tribute to Ronald Reagan, the man and the visionary. It has been a welcome respite from the truly partisan climate in which we find ourselves emerged.
But it is a climate with which Reagan himself was much familiar. Much of his term was mired in controversy and political bitterness. Who can forget his nomination of Robert Bork, which has inspired a new…
To continue reading, subscribe for free.
---
Or login below.