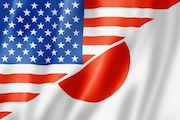 Central Bankers Gone Wild
---
In summary, along with increasing your exports of cars, flat-panel screens, robots, and machine tools, you are going to try and export the one thing you have in abundance that the world does not want: deflation.
This is a nightmare scenario for central bankers worldwide. If there is a mandate, a central theme in the Handbook for Central Bankers, it is that deflation must always and everywhere be fought tooth and nail. Deflation must be given no quarter. Who wants to become the next Japan?
If deflation shows up on your watch, you have to fight it. And if your interest rates are already low, then the only tool you have in your deflation-fighting toolbox is quantitative easing.
Let me be very clear. Japan is about to unleash the most significant currency war since the 1930s, when the world was still on the gold standard. The problem today is that politicians, labor unions, and businesses everywhere want to use exchange rates as the tool to manage their balance of trade, rather than focusing on improving their own competitiveness and manufacturing skills, not to mention controlling their own spending and fiscal budgets. The problem as they see it is the competition from abroad, which is always seen as doing something unfair.
The pressure on central banks to respond to Japanese QE is going to be immense. As the yen has risen from 78 to around 100 today (against the dollar), central banks have so far said very little, since they realize that only a few years ago the yen was at 120 and falling. But we need to remember that the yen has been at 350 within the last 40 years.
However, Japan is going to need to depreciate the yen by 15%-plus a year to get their 2% inflation, and within two years that means a yen at 130. And then 150 the next year, with 200 the extrapolated destination in five years. Can that happen in a vacuum?
It is unrealistic to think it can. I think we may be entering a most dangerous period where politicians and central bankers feel the need to "do something," and that something will include quantitative easing, exchange-rate actions, and protectionism. Think in terms of Central Bankers Gone Wild, armed with electronic printing presses and dreaming of new, ever more creative ways to stimulate the markets.
Stay tuned. We will continue to focusing on these topics as the summer advances.
In closing, a few notes on recent events that may not have come up on your Japan radar . Japan is discussing the need to impose rules on foreign exchange trading "to protect investors and limit speculation." The nasty volatility that has developed is not the fault of their own policies, they say, but that of traders and hedge funds. Here is some discussion.
And this note: Major Japanese banks plan to hike mortgage rates in June for the second consecutive month as long-term rates continue to creep up despite the Bank of Japan's efforts to guide them lower.
This is just the beginning. Do not rule out exchange and capital controls when things get very wild in a few years. Those have been tried many times in many places. If I lived in Japan I might want to take a vacation in, say, Singapore, and maybe check out the new botanical gardens and casinos. And if perhaps I walked by a bank, I might drop in just to see how easy it is to open a bank account and transfer a little money. Just for some diversification, you understand. And perhaps I'd go ahead and move a few assets out of yen into a different currency.
DC, NYC, France, Cyprus, and Vegas…
I will be in Washington DC Monday evening meeting with the team at Mauldin Economics, shooting a few videos that we will soon post. One will be with Newt Gingrich, and we will be talking about the changing world from the positive perspective of accelerating progress in technology. That is so much more fun than talking about Japan. We are also going to be making some very exciting announcements about new projects and additions to the team in months to come.
Then it's on to NYC for our Investing in the New Normal video webinar with Kyle Bass, Mohamed El-Erian, John Hussman, Barry Ritholtz and David Rosenberg. I have a lot of questions I want to ask these guys. You can join the fun (for free) by registering right here.
After Father's Day I am off to Monaco for a speech at the GAIM conference, and then I'll make my way to Cyprus to see for myself what the latest crisis aftermath looks like. Then on July 6 and 7 I'll be in Las Vegas. Reid Walker, friend and recovering hedge fund manager based here in Dallas, is organizing an event during the World Series of Poker on the theme of the intersection between investing and poker skills. This is just an entirely different world for me. I will not be entering the tournament –I know my limitations! But talking to some of the best players in the world and meeting Nate Silver and some of the other speakers will make for a fun weekend. The event is not cheap, but you can get a 10% discount by putting in the code "Mauldin10". Let me know if you're coming, and we'll get together for a meal. You can read more about the conference and register here. And here's an article in Hedge Fund Intelligence about Reid and the event.
I know I mentioned Sagan's famous riff "billions and billions" above. I also know he did not actually say it. The quote is actually from Johnny Carson, doing his impersonation of Carl Sagan. Eventually, Sagan did use "billions and billions" as the title of one of his last books. Just for the record – as some of you astute readers would have been quick to point out.
We are down to the wire on closing on the apartments. Finally! Just a few documents to sign and then construction begins. I will move into a small place in the same building during the transition, which is optimistically scheduled to last three months but realistically could run a lot longer. But at least I will have access to my "stuff" and more than the one pair of shoes I trot the globe in now. I did not plan to be "homeless" and in a hotel this long.
A positive aspect of it all is that I and my personal staff are becoming quite adept at being a virtual company. We have been progressing in that direction for years, but these last few months with no physical office have been the real test. Other than missing my multiple large screens, I am getting along quite well.
Have a great week. I have friends waiting on me tonight and family to spend time with this weekend. And I'll hit the gym, catch up on a lot of reading, and enjoy a few episodes of the one TV show I watch, Game of Thrones. I look forward to relaxing and enjoying a long weekend.
Your needing to get in the gym more analyst,


John Mauldin
Did someone forward this article to you?
Click here to get Thoughts from the Frontline in your inbox every Saturday.