What is up?/Inflation
March 14, 2018
Folks, John Mauldin is feeling ill today, so this is Patrick Watson jumping in to help. John's doctor has ordered him to stay in bed and not even think about the economy for 24 hours. He is now snoozing, but before signing off asked me to select today's Outside the Box story.
Fortunately, I didn't have to look too far. The prolific Peter Boockvar has a very interesting reaction to today's Producer Price Index report. I'm skeptical of the rising-inflation narrative. I see inflation in certain sectors like housing and healthcare, which is quite painful to most of the non-wealthy population. I don't foresee it widening much further, and I think the Fed will probably overshoot if it hikes 3-4 times this year.

| | | |
| --- | --- | --- |
| - | Is your portfolio positioned to take advantage of this trend, or be disrupted by it? | - |
Peter sees a greater inflation threat and, as always, offers plenty of evidence. Time will tell if he's right but for now it's a perspective you should know.
John will be back with Thoughts from the Frontline this weekend. I know he wants to share some SIC thoughts.
All the best,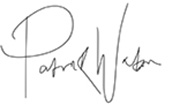 Patrick Watson
John Mauldin, Editor
Outside the Box
subscribers@mauldineconomics.com
Get John Mauldin's Over My Shoulder
"Must See" Research Directly from John Mauldin to You
Be the best-informed person in the room with your very own risk-free trial of Over My Shoulder. Join John Mauldin's private readers' circle, today.
---
What is up?/Inflation
By Peter Boockvar, Chief Investment Officer, Bleakley Advisory Group
February core retail sales (ex autos, gasoline and building materials) rose just .1% m/o/m after no change in January and a decline of one tenth in December. The estimate was for a gain of 4 tenths. Auto/parts sales fell for a 4th straight month and are up only 2.1% y/o/y (vehicle sales got a respite after the hurricanes but seem to be back in the decline that they were in mid last year). Building materials sales rebounded by 1.9% after the likely weather induced 1.7% drop in January. Elsewhere of note, sales of electronics, furniture, department stores and food/beverages fell while they rose for clothing, sporting goods, restaurant/bars and online retailing. On the latter, it was up 1% m/o/m after dropping by a like amount in January. Versus last year, they are still up a solid 10.5% and of course are the main growth story in retail.
Bottom line, core retail sales have gone nowhere over the past 3 months. They totaled $268.8b in November and was $268.2 in February. Maybe consumers are waiting for their tax refund check? Maybe they are saving the tax cuts and paying down the large credit binge they went on over the past 6 months? Maybe after seeing their savings rate fall to a 10 yr low they are deciding to replenish bank accounts? What is up?
Core Retail Sales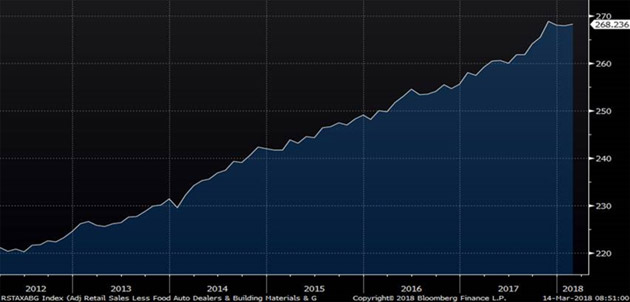 Source: Bloomberg
The producer price index rose .2% vs the estimate of up .1%. The core rate was up by .2% as expected but taking out food, energy and trade saw a 4 tenths jump, double the estimate and after a similar gain in January. On the latter, the y/o/y gain is now 2.7%, the highest in at least 4 years when they started to calculate this figure. Headline PPI was up 2.8% and is up 2%+ for 12 in the last 13 months. Inflation is clearly rising with it more pronounced at the wholesale level. If yesterday's NFIB report is any indication, companies seem ready to start passing that on.
We've heard many stories and read articles of the problems with rising transportation costs due to the dearth of trucking capacity. Transportation and warehouse prices jumped 9 tenths m/o/m (in particular "traveler accommodation services jumped 3.7%") and this drove a 3 tenths m/o/m rise in service costs. Goods pricing fell, weighted down by food and energy but rose 2 tenths ex this led by a 7.2% spike in chemical prices.

Bottom line, the higher inflation story is intact which comes after a 2.2% headline and 1.8% core CPI print yesterday (3 month annualized rate is running above 3%). Inflation breakevens are not moving though as PPI typically is not market moving. The 10 yr yield is not moving either but the 2 yr yield is at a fresh 9 ½ yr high at 2.28% and the 2s/10s spread is narrowing by 2 bps to the tightest since the last day of January.