Face the Music
February 14, 2012
No one does it like Kate Welling – we're talking financial-world interviews here, "interrogatory journalism," as Kate would put it – and her interview of Dr. Lacy Hunt, which you're about to read, is in my opinion one of the best she's ever done, and the best I've seen with Lacy.
Kate's interviews, which she publishes in welling@weeden, normally get seen only by the institutional investors and other market pros who are her clients; but she has kindly allowed me to share this one, in which Lacy tackles the same fundamental challenge I've been writing about these past few years: How do we deal with the economic crisis we've brought upon ourselves through the buildup of too much debt? How do we get out of the hole we've been digging, when the tried-but-not-so-true Keynesian (and Bernankean) methods just get us in deeper? How do we work through the end game of the Debt Supercycle, when there are seemingly no good or easy choices left, and find our way forward into an era of renewed growth and hope?
Lacy doesn't give us The Answer, but what he does give us that is really helpful is a deep historical understanding of economic forces and the key players who have tried to manage them, guys like Irving Fisher, who completely missed the call of the Great Depression, but learned a thing or two from it. Bottom line: "... if Fisher is correct, and if we try to solve our current problems by getting deeper in debt, then what Fisher is saying is the additional indebtedness doesn't make us stronger, doesn't increase our options. It makes us weaker, reduces our options."
My answer to everything tonight, as my brain, which is still in Cape Town, tries to catch up with my body in Dallas: take in a Mavs game!
Your giving microeconomic forces their due analyst,
John Mauldin, Editor
Outside the Box
subscribers@mauldineconomics.com
Get John Mauldin's Over My Shoulder
"Must See" Research Directly from John Mauldin to You
Be the best-informed person in the room with your very own risk-free trial of Over My Shoulder. Join John Mauldin's private readers' circle, today.
---
listeningin
Face The Music
Road Back To Prosperty Is Through Shared Sacrifice, Says Lacy Hunt
Last time Dr. Lacy Hunt, the chief economist at Austin, TX-based Hoisington Investment Management was interviewed in these pages, in July, 2009, the rebound in stocks from their crisis lows was only months old — yet he remained firmly in the bull camp — on bonds. As it turns out, Lacy, and the entire portfolio management team at Hoisington, led since the firm's founding by Van R. Hoisington, couldn't have been proven more right: Rates, which "couldn't go lower" have continued to sink. Much to the benefit of Hoisington's institutional clients and investors in the Wasatch-Hoisington U.S. Treasury Fund, which the firm sub-advises. When I gave Lacy a call earlier this week, he — always a gentleman and a scholar — patiently explained not only why he's still bullish on long Treasuries, but why there's simply no easy exit from the debt morass in which the whole economy, public and private, is trapped. Listen in.
KMW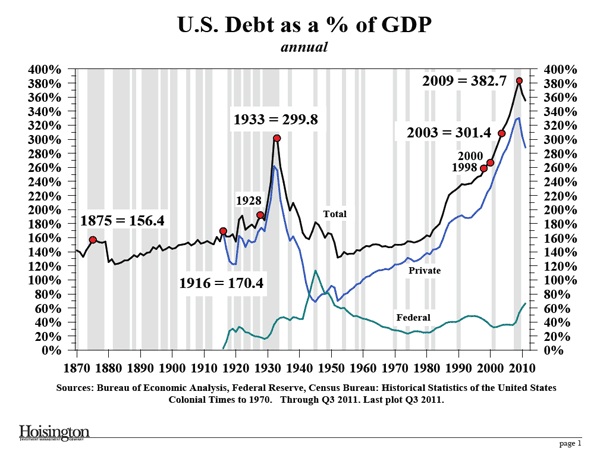 Happy New Year, Lacy. And thanks for sending all those charts to background me for our conversation. I have to say the first one stopped me — showing debt as a percentage of U.S. GDP all the way back to 1870? What data goes back that far?
Dr. Robert Gordon at Northwestern University has been very helpful to me, recreating a lot of data. The National Income and Product Accounts (NIPA) from the Bureau of Economic Analysis (BEA) only start in '29. But NBER (the National Bureau of Economic Research) funded two studies, one by Christina Romer and the other by Robert Gordon, to estimate the nation's GDP back to 1870. So we have those data sets. They're not identical, obviously, but what most economists do, including me, is use an average of the Romer and the Gordon estimates, which seems to work out pretty well.
Still, I suspect most folks looking at a line on a chart interpret it as "historical fact" instead of as an estimate based on spotty data on the workings of a very different economic environment.
Well, what the profession is saying is that economic propositions need to be tested and verified over as complete a sample as possible. Admittedly, some of these earlier periods, you didn't have a central bank; you didn't have an income tax; you had various political regimes; sometimes you were on the gold standard, sometimes you were off. The point is, most people feel that these institutional differences shouldn't obscure the verifiable observation of basic economic relationships. So you want to test this over as much time as you possibly can and I think that's a reasonable proposition. Anyway, that's my approach, and that's increasingly the approach in the profession.
I was just noting that what we actually know about the economy in days gone by is lot squishier than terms like "data sets" or lines on charts seem to imply. But clearly, observations over short times can be misleading.
Absolutely. Take the subject of debt. If you confine your analysis to post-war period, you only have one major debt-dominated cycle and that's the one we're currently in — and have been in for a number of years. But if you go back far enough, you have three more. You have the 1820s and 1830s. You have 1860s and 1870s and then you have 1920s and their aftermath. Sometimes it's essential to take your analysis back as far as you possibly can.
Sure. Doesn't your second chart, on the velocity of money [below], show how none other than Milton Friedman was misled into thinking that it was a constant because he only looked at post-war data?
That's correct and, in fact, I was misled along with him because I was also doing analysis based on the post-war data. Friedman's period of estimation was basically from the 1950s to the 1980s. Well, if you look at the velocity of money in that time period, it's not a constant, but it's very stable around 1.675. So if you tracked money supply growth then, you were going to be able to get to GDP growth very well. Not on an individual quarterly basis, but even the individual quarterly variations were not that great. Until velocity broke out of that range after we deregulated the banking system. Now, velocity is breaking below the long-term average and it's behaving exactly like Irving Fisher said, not like Friedman said, absolutely.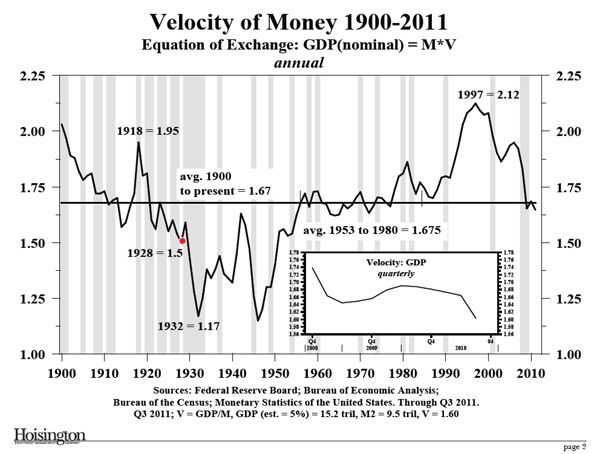 What a perfect example of the difference your frame of reference can make.
Yes, Friedman even said Fisher was the greatest American economist, and I think that is correct. Fisher had a broader understanding of the economy in a very, very critical way and in a way that I don't think either Friedman or John Maynard Keynes understood it, and even a lot of contemporary economists, such as Ben Bernanke. Keynes and Friedman both felt that The Great Depression was due to an insufficiency of aggregate demand and so the way you contained a Great Depression was by your response to the insufficiency of aggregate demand. For Keynes, that was by having the federal government borrow more money and spend it when the private sector wouldn't. And for Friedman, that was for the Federal Reserve to do more to stimulate the money supply so that the private sector would lend more money. Fisher, on the other hand, is saying something entirely different. He's saying that the insufficiency of aggregate demand is a symptom of excessive indebtedness and what you have to do to contain a major debt depression event — such as the aftermath of 1873, the aftermath of 1929, the aftermath of 2008 — is you have to prevent it ahead of time. You have to prevent the buildup of debt.
And that your goose is cooked if you don't you cut off the credit bubble before it overwhelms the economy?
Yes, and Bernanke is thinking that the solution is in the response to the insufficiency of aggregate demand. That was Friedman's thought. That was Keynes' thought