Hostages to History at the G-20 Summit
July 7, 2017
For this week's Outside the Box, I again bring you the sterling work of George Friedman and his team at Geopolitical Futures. Today, George delivers a sobering analysis of the G-20 Summit now underway in Hamburg. Our leaders, he says, like to think of themselves as intrepid decision makers whose national interests are defined through their interactions with their global peers in venues like the G-20. But, he argues, history is marching on – and at a rather brisk pace these days, you may have noticed – as much in spite of our presidents and prime ministers as because of them; and solutions to the issues they will take up in Hamburg will not be much advanced or retarded by their presence there.
The simple fact is that politicians have their hands tied by their own voters and by other circumstances they don't fully control. The instances where there is successful global or regional cooperation come about because of clear mutual benefit that can be sold to the folks back home. There may not be total, unambiguous benefit to all parties, but that is a lesson of game theory: Equilibrium sorts itself out when the players (in this case nations) extract as much advantage as they can. Some issues are more important than others, and a venue like G-20 might be useful for solving the smaller issues or opening a few bilateral doors, but resolution of the big issues always seems to get pushed off into the future.
I get this sort of solid, enlightening geopolitical analysis delivered to my inbox every day from Geopolitical Futures, and so can you. You really don't get it from reading the mainstream media or watching TV, or even from reading in-depth magazine and newspaper articles. The simple fact is that most of the sources from which we extract information have a bias. In my longtime interactions with George and Meredith Friedman, I have learned that their sole bias is to sort out global reality and share their insights. They have a passion for figuring out how things will actually turn out – not what we might want to happen or what should happen, but what will happen.
We're offering you a full year of Geopolitical Futures' complete package of services for just $99 – that's a 60% discount off the regular $250 price. Along with George's own weekly letter, you get GPF's Reality Checks, Deep Dives, Forecasts & Net Assessments, and other great resources.
Geopolitics have never been more crucial to investment decisions than they are today, so join me in savoring the very best in geopolitical analysis, day in and day out. You can learn more here.
I will be writing my letter this weekend on a similar topic, with a focus on central banks and the situations in which they find themselves. As I will point out, central bankers do have constituencies, but they don't have to worry about voters. In theory, they're supposed to be able to look beyond the present situation and help move things along toward betterment over time. What we've seen with the current generation of central bankers is that they are most worried about market reactions, and in their efforts to appease and prop up markets they have created a series of bubbles. Now, they have once again painted themselves into an untenable corner where they are left with no good options. They will go ahead and make difficult decisions, to be sure; but because they failed to make them years ago, their results are not going to be as propitious as they hope.
Things are busy around the Mauldin household. All of Shane's and my kids (I have seven and she has one) will be here tomorrow night, along with a small gathering of mostly local friends, to congratulate yours truly and his bride. I am told that I will have some pictures to put in this week's letter. I don't normally post personal photos in the letter, but numbers of people have asked.
You have a great weekend!
Your seeing trouble on the horizon analyst,
John Mauldin, Editor
Outside the Box
subscribers@mauldineconomics.com
Get John Mauldin's Over My Shoulder
"Must See" Research Directly from John Mauldin to You
Be the best-informed person in the room with your very own risk-free trial of Over My Shoulder. Join John Mauldin's private readers' circle, today.
---
Hostages to History at the G-20 Summit
By George Friedman
July 5, 2017
Leaders overstate how much their relationships define national agendas.
Anyone who has ever been to a meeting knows that meetings are often confounding, frustrating affairs. Most of them are designed simply to be held. The people who attend them are unlikely to agree on anything except maybe the date the next one will convene, and the possibility that they accomplish something gets smaller as the meeting itself gets larger. The G-20 summit, which will be held July 7, is no exception. But that's only because the people who attend it, the leaders of the countries with the world's 20 largest economies, think of themselves as decision-makers when really they are hostages to history.
In fact, the dynamics involved at a meeting such as the G-20 are indifferent to the people who attend it. Personalities are interesting but ultimately indecisive in power politics. World leaders may not like Donald Trump – in fact, many do not – but since they cannot avoid dealing with the United States, still the world's only superpower, they cannot avoid dealing with its president.
The United States is inextricably linked to three major issues that will be addressed but probably not resolved at the G-20 summit. The first is the progression of North Korea's nuclear weapons program, an issue the United States and China simply cannot ignore or fully resolve without at least talking to each other. On July 4, Pyongyang tested a missile it claims was an intercontinental ballistic missile. The North Koreans may be exaggerating, of course. The missile still needs guidance systems and a configured payload, but as U.S. Secretary of Defense James Mattis said, the United States can't wait for North Korea to have a functional ICBM.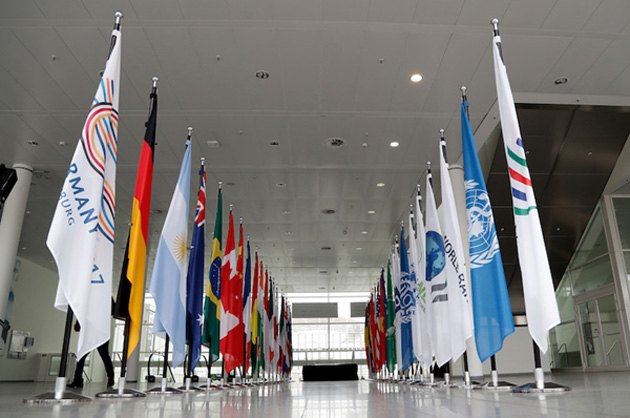 Flags are seen at the fair halls of the G-20 summit site on July 4, 2017 in Hamburg, northern Germany. Friedemann Vogel-Pool/Getty Images
Here again, personalities matter less than imperatives. The Trump administration had planned for an economic confrontation with China, at least if statements from the campaign were to be believed. The reckoning has been postponed now that Washington needs Beijing to persuade North Korea to abandon its nuclear weapons program. So far the talks have been futile, and it's unclear if China even wants them to succeed. If the United States attacks North Korea, China could get what it wants – North Korea without a nuclear weapon – without lifting a finger, superbly positioned thereafter to play the role of peacekeeper against the belligerent United States. In the meantime, Chinese President Xi Jinping will promise to try harder to disarm North Korea because it strengthens his case if the U.S. attacks while he is "negotiating." Washington probably sees the trap China is trying to set but can't really get around it; it will simply remember this later, after the North Korea issue has been resolved one way or the other, when it turns its attention back to Beijing. After all, the U.S. can damage the Chinese economy far more than China can harm the American.
The second issue is Russian interference in the domestic affairs of other countries – a hot-button issue that elides some obvious facts: Nations interfere with other nations all the time, and the Russians have a long history of agitation and propaganda. Moscow has, in no uncertain terms, interfered in the domestic affairs of other countries, particularly former Soviet states that lay west of Russia. The government claims, albeit quietly, they are justifiable responses to meddling in the "color revolutions" of Eastern Europe in the 2000s, funded as they were by U.S. nongovernmental organizations. Whatever may or may not have happened in the 2016 U.S. presidential election is beside the point. The bigger issue for Russia is that its oil is cheap, and that cheap oil will continue to hurt the Russian economy. Nothing from the meeting will change that.
The third issue is U.S.-German relations. The party of Chancellor Angela Merkel no longer uses the word "friend" to describe the United States in its platform. But in fact, Merkel has blamed Trump for a rupture he has little to do with. At issue are the national interests of both countries. Germany needs for the European Union to be economically healthy enough to buy the exports on which its economy depends, but the United States, which has little leverage or stake in the European Union, sees its disintegration as a European problem. And so Washington has been working with countries like the United Kingdom and Eastern Europe states on a bilateral basis to contain Russia rather than going through Brussels. Germany, moreover, wants to be in NATO and the EU, but both organizations have a hard time instituting policies that benefit all its members because none of its members have identical national interests. And then there is Russia. The last thing Germany wants to do, in light of its other problems, is confront Russia, but blocking Russia is central to U.S policy, and it needs Europe united in that regard. The divergence between the United States and Germany has been growing since 2008, and there is little Trump could have done to change things.
World leaders take their relationships with other world leaders very seriously. To them, their relationships with their peers define their national interest. Though this line of thinking is misguided, it has its advantages, given Trump's apparent unpopularity. Xi will blame Trump for disrupting a nearly successful peace process in North Korea. Putin, in an effort to dispel rumors of collusion, will blame Trump for conspiracies against Russia. Merkel will blame him for disrupting U.S.-German relations. Trump's personality, however, will no more define what happens at the G-20 summit than his healthcare views will define what emerges from Congress.
For a short time only, get a full year of George's Geopolitical Futures service for just $99 – a 60% discount off the regular price of $250. Learn more here.